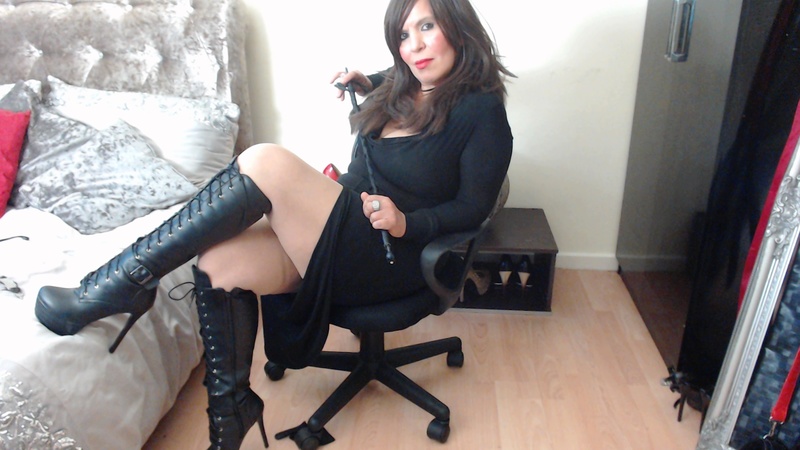 GoddessLayla101 is one of the intriguing MILFs who have turned their live XXX webcam shows into something much more thrilling. This dashing brunette comes from the United Kingdom, she's 53 years old, and she's living out her perverse fantasy of encouraging straight me to be Gay and suck dick. GAY Encouragement is her specialty so if you've never had thoughts of Gay sex be careful because she has a way of getting in your head!
Sometimes, this hottie takes her webcam performances in her sex dungeon, where she keeps all of her kinky props and pervy toys. You'll be hard-pressed to find a more capable and well-equipped mistress than GoddessLayla101. Be sure that this twisted, ravishing beauty will assist you in reaching an explosive climax, no matter what kind of roleplaying fantasy or dirty fetish you have in mind.
More Femdom Milfs who encourage you to suck dick
GoddessLayla101 is a true and proper mature lady who hides her naughty personality behind a classy, elegant appearance. This MILF comes with thick, seductive curves on a shapely, womanly figure that will leave you breathless. Her magnetic measurements read 94-76-102, indicating that this cam girl is juicy in all the right places. Whether you're into big, round, and supple D cup tits or if you prefer when a mistress has a considerable backside, GoddessLayla101 is the girl for you. When it comes to dressing up for webcam shows, GoddessLayla101 swings both ways. Sometimes, she'd put on a glamorous dress that emphasizes her tits and hips but makes her look all chic and expensive. Other times, however, the brunette will dress up in latex and leather, ready to go down and dirty in her BDSM dungeon.
The main reason why countless people left nothing but 5-star reviews on her page is the mischievous personality of this hot domina. If it involves femdom or some of the related fetishes, there's no MILF more capable than GoddessLayla101. The majority of toys and props that she has are not to be used on her but on submissive slaves. If you're looking for a woman who will dominate you into multiple orgasms, then she's the one for the job. With expertise in JOI, CEI, CBT, gay encouragement, feminization, strap-on fucking, leather, latex, findom, giantess, and many other obscure and particularly perverted fetishes, every second spent in C2C shows with GoddessLayla101 will be a blast.